The bareMinerals Eye Club, Nude Elegance
$34.99
Promotions
3 Piece Deluxe GWP With Any $60 Purchase
Receive free shipping on any $50 purchase or more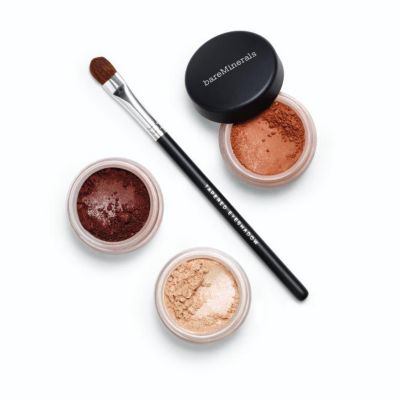 ABOUT THIS PRODUCT
Three on-trend eyecolors plus a brush for endless looks.
Learn More
$34.99
Promotions
3 Piece Deluxe GWP With Any $60 Purchase
Receive free shipping on any $50 purchase or more
Details
http://www.bareminerals.com/subscribe/eye_club/the-bareminerals-eye-club%2C-nude-elegance/US79054.html
Variations
Additional Information
Let the color come to you. When you enroll in the bareMinerals Eye Club, you'll receive an exclusive seasonal collection filled with our top eye innovations, delivered right to your door. These eye-catching collections are worth $60, but are only $34.99 for Eye Club members. Plus, you get free shipping and a sample. So, what are you waiting for? Join bareMinerals Eye Club, we deliver the products, and you make them look good.
*S&H is free for Friends and Benefits members
Your first shipment includes:
1 Queen Phyllis Eyecolor (light buttercup)
1 Wearable Brown Medium Eyecolor (chocolate mousse)
1 Faux Mink Eyecolor (dark chocolate)
1 Tapered Shadow Brush
Get-the-Look Card
Plus, when you enroll in the Eye Club, you'll automatically become a member of our Friends and Benefits program.Terms & Conditions: There is no minimum purchase required, and you can change or cancel your automatic shipments at any time online or with a toll-free call to customer service at 1-866-214-0702. Product pricing, product offerings and product bundles are subject to change without notice. The bareMinerals Eye Club and the product offerings and product bundles sold through the Eye Club may be cancelled and/or discontinued at any time by bareMinerals without notice. These terms and conditions may be changed at any time without notice. Terms & Conditions