Is there anything an olive can't do? This little fruit is best known in the kitchen, providing valuable fatty acids at the core of a Mediterranean diet. But it's also a hero in both our COMPLEXION RESCUE Collection and new MINERALIST Lipstick. For our skincare-foundation hybrids, olive is the source of vegan Squalane, which nourishes skin and helps protect against moisture loss. As for the lipstick? Olive oil extract actually intensifies the color payoff so you get maximum impact. Pretty impressive.
We asked Brooklyn-based chef Jane Coxwell for her favorite way to use olives and this endlessly versatile dressing was her suggestion. Making a vinaigrette can seem intimidating; traditionally it a requires a bowl, a whisk, controlled pouring … but we prefer the way Jane does it: just put everything in a jar and give it a good shake.
To demonstrate the versatility, she also shared recipes for roasted squash and winter greens — two healthy, hearty dishes that come alive with the addition of this simple vinaigrette.
This is a really helpful little recipe for anyone to have, though the principle of it is actually more important than the recipe itself. As long as you have three parts oil (extra virgin olive oil, a nut oil or avocado oil) and one part acid (lemon, lime or vinegar), plus seasoning, you can make a variety of vinaigrettes to dress any meal.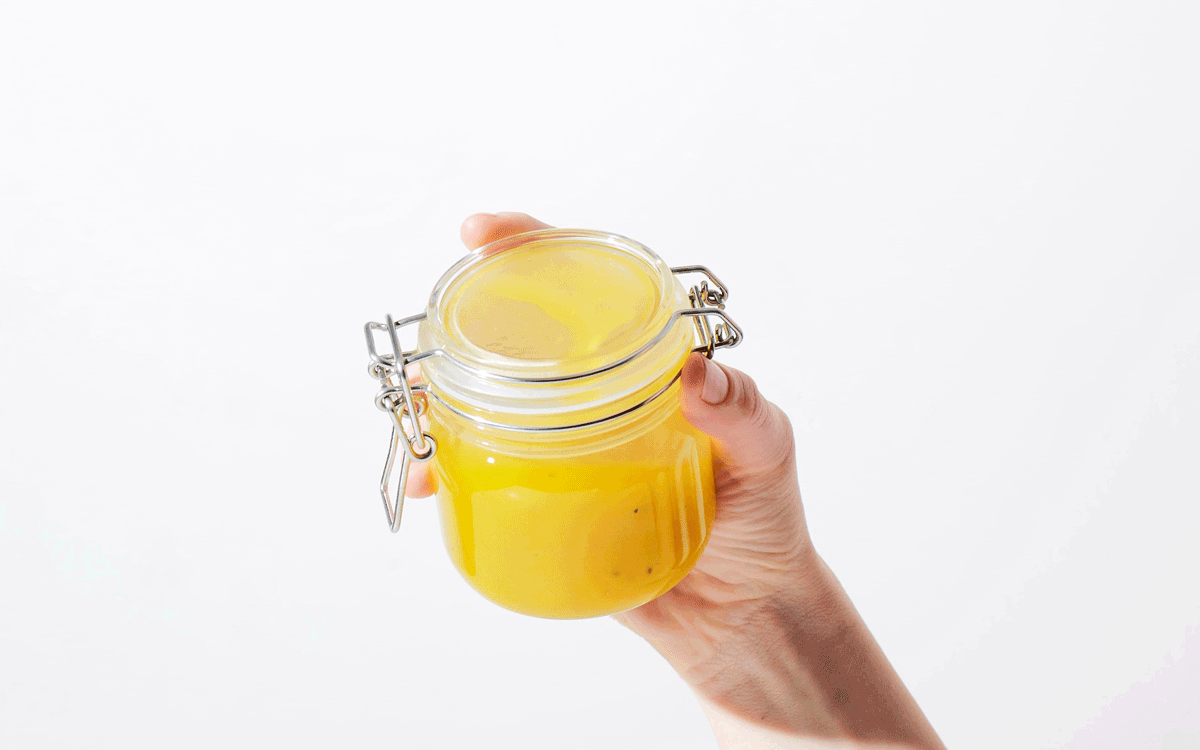 Olive Oil and Lemon Vinaigrette
Ingredients
6 tablespoons of extra virgin olive oil
Juice of 1 lemon
Pinch of sea salt and freshly ground pepper
½ teaspoon of raw honey
Instructions
Add all ingredients to a jar, close and shake! Have a taste after — you may want more acid or a little more sugar, depending on your own preference.
For a few starter variations, try adding one or all of the below:
Chopped dill
¼ clove of minced raw garlic
A teaspoon of Dijon mustard
Add fresh thyme leaves
Winter Green Salad with Picked Herbs
Ingredients
Bunch of kale, thinly sliced
Baby spinach leaves, washed
Handful of picked Italian parsley leaves
Handful of picked dill leaves
Handful of whole almonds, roughly chopped
Instructions
Toss the greens in a bowl with the Lemon and Olive Oil Vinaigrette just before you are about to serve them.
Note: This salad is open to additions — you can use any leaves (radicchio would be great, arugula would work well too), add any nuts or seeds (walnuts would work really well), and add any type of cheese (crumpled blue cheese or a fresh goat's cheese would be perfect!). You can serve the above all mixed together on a platter for a group, or you could have it as a light, healthy meal by itself.
Roasted Acorn Squash
Ingredients
1 acorn squash, seeds removed, cut into slices
Sea salt and freshly ground black pepper
Extra virgin olive oil
Sprig of rosemary, leaves roughly pulled off
Lemon and Olive Oil Vinaigrette (above)
Instructions
Preheat oven to 375°F
Toss the squash in the olive oil, salt, black pepper and rosemary, and place on a tray
Bake for about 30 minutes on one side and then about another 15 minutes on the other side (the timing of this will depend on your oven and the size of your squash slices, so it's always a good idea to keep an eye on things roasting in the oven, and adjust the time depending on how you think it looks)
Remove from oven, toss lightly in the vinaigrette and serve
Note: You can add thyme, butter, honey, or a spice like nutmeg to your squash — this recipe leaves room to play
Meet Jane
Jane Coxwell is a chef, author and consultant, and has earned her reputation as one of the most sought-after private chefs with a style that's as elegant as it is unpretentious.
Equally comfortable working over open fires on the beaches of Papua New Guinea as she is in the kitchens of the biggest names in fashion, media and entertainment, Jane has cooked her way around the world, cultivating an approach to food and travel that is uniquely her own.
Born in Zimbabwe and raised in South Africa, Jane was one of the youngest chefs ever appointed to run the kitchen of a Camper & Nicholsons yacht. At just 23, she joined Hall Wines in California's Napa Valley as Executive Chef and Culinary Manager, where she cooked for prominent guests including Hillary Clinton. For the last near-decade, Jane has served as Diane von Furstenberg's chef, both on Eos, the 305-foot sailing yacht she and Barry Diller own, and in New York and Connecticut.
Her experiences on and off Eos — ranging from meals in the villages of Southeast Asia to the vibrant open-air markets of the Italian Riviera — inspired her first book, Fresh, Happy, Tasty: An Adventure in 100 Recipes. Now based in New York City, Jane continues to develop food-and travel-centric content while working on her second book. She also consults for large events, including the creation of the first sustainable meal for the 2017 CFDA Awards.