MINERAL SUNSCREENS
WHAT ARE THEY?

Derived from naturally occurring minerals, these sunscreen ingredients deliver powerful protection, yet are considered a gentle SPF option that works for most skin types.

WHAT DO THEY DO?

Mineral-based sunscreens create a physical barrier to reflect UVA and UVB rays away from the skin. The SPF in every bareMinerals formula is mineral-based, delivering shield-like, broad-spectrum protection against signs of premature aging.

WHY DO WE USE THEM?

Unlike chemical sunscreen ingredients, mineral-based sunscreens do not absorb into the skin — allowing them to be used comfortably by most skin types, even sensitive. Since they are derived from naturally occurring minerals, they make good environmental sense, too; some chemical sunscreens may harm our ocean ecosystems.
Key Ingredients
100% mineral-based, physical sunscreen ingredients.
Zinc Oxide is effective against the widest range of UVA and UVB

Titanium Dioxide has a greater affinity for blocking UVB rays
Not only are mineral-based sunscreens super-gentle and great for most skin types, they also work immediately after application.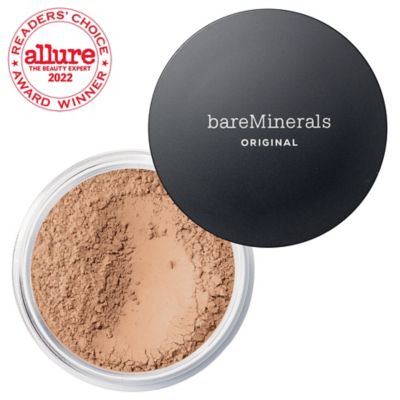 FEATURED PRODUCT
ORIGINAL Loose Powder Foundation SPF 15
The original clean, skin-improving loose mineral foundation that delivers lightweight, buildable coverage and a natural luminous finish.
SHOP NOW