Free Shipping & Returns on Foundation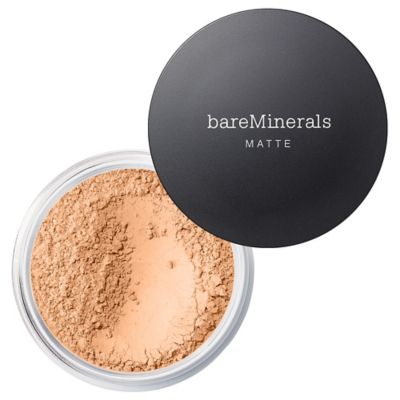 Free Shipping & Returns on Foundation
https://www.bareminerals.com/makeup/face/foundation/loose-powder-matte-foundation-spf-15/US84255.html
Loose Powder MATTE Foundation SPF 15
Mineral Foundation for Oily Skin
This super-lightweight loose powder foundation perfects your complexion with buildable, sheer-to-full coverage and a silky matte finish. The clean mineral formula blurs the look of pores, helps control excess oil, and protects your skin with non-chemical mineral sunscreen. Oily skin, meet your perfect foundation match! Read more
Size: Large (6 g / 0.21 Oz.)
Additional Information
What it is:
FULL OF: *Clean Mineral Pigments *Iron Oxides *Non-Chemical Mineral Sunscreens *Titanium Dioxide & Zinc Oxide *Silky, Matte Finish *Silica & Calcium Silicate (oil-absorbing) *Lauroyl Lysine (skin conditioning) FREE OF: *Talc *Parabens *Phthalates *Fragrance *Preservatives *Chemical sunscreens bareMinerals® is always 100% cruelty-free MAKEUP SO PURE AND CLEAN YOU CAN SLEEP IN IT™ Discover mineral makeup that mattifies skin, blurs the look of pores and imperfections, and won't clog your pores or cause breakouts… even if you sleep in it! Our MATTE Loose Powder Foundation SPF 15 is a clean, 100% vegan formula that lasts all day, so your skin stays fresh, matte and flawless-looking. BUILDABLE FULL COVERAGE, MATTE FINISH Customize your coverage from sheer to full with this effortlessly buildable formula. When you use our signature Swirl, Tap, Buff® method, the mineral pigments transform into a silky cream that blends seamlessly onto your skin, feels feather-light, and won't settle into pores or fine lines. You'll have a silky matte and healthy look, with the flawless finish of a liquid foundation and the feels-amazing breathability of a powder. NON-CHEMICAL MINERAL SUNSCREEN Stay protected with broad spectrum SPF 15. Natural mineral sunscreens give you safe and effective chemical-free protection from damaging UVA/UVB rays. Physical sunscreens containing the active minerals titanium dioxide and zinc oxide work to immediately block UV rays from absorbing into the skin, unlike chemical sunscreens that absorb UV rays. THE PERFECT SHADE FOR EVERY FACE We offer 30 shades that stay true all day, with no oxidizing or color change. Want to meet your perfect foundation match? Use our easy shade finder or visit a bareMinerals® Boutique for an IRL shade-match with a makeup artist!
Why you'll love it:
BENEFITS • Makeup so pure and clean you can sleep in it™ • Controls excess oil and mattifies skin • Minimizes the appearance of pores and imperfections • Promotes clearer, healthier looking skin over time • Provides broad spectrum SPF 15 non-chemical, mineral-based sun protection • Recommended by The Skin Cancer Foundation as effective broad spectrum sunscreen • Non-comedogenic: won't clog pores or cause breakouts • Non-acnegenic • Hypoallergenic • Dermatologist-tested • Wears all day • Available in 30 shades CLEAN FORMULA • Made with 6 clean ingredients • Formulated WITHOUT talc, parabens, binders, fillers, oils, waxes, fragrance or preservatives • Gluten-free • Vegan • None of our products are tested on animals

Vegan Friendly

Gluten Free

Bare Guaranteed
Our team suggests:
SWIRL, TAP, BUFF® Our signature application method will give you buildable, seamless, natural-looking coverage! We recommend applying with our Beautiful Finish Brush, which deposits the ideal amount of minerals and fits perfectly into the cap. Step 1: SWIRL a small amount of foundation in the cap until it disappears into the brush. Step 2: TAP away any excess. Step 3: BUFF onto your skin circular motions. This activates the minerals and transforms them from a powder to a silky cream. Repeat until you've achieved the coverage you want, from sheer to full. Click, Lock, Go™ Sifter Instructions 1. FOR FIRST TIME USE: Remove the clear tab inside to toss away. (Sifter is now in open position.) 2. Dispense product inside lid and begin "Swirl, Tap, Buff®" application. 3. When finished, grab the outer ridges of the sifter and turn to the right until it clicks. (The click indicates the sifter is in closed position.)* 4. Close jar lid. 5. FOR CONTINUED USE: Open jar lid and turn the sifter to the left until it clicks into open position. *To stop the flow of product, always close the sifter prior to placing jar lid back on.
What's inside:
ACTIVE INGREDIENTS: Titanium Dioxide, Zinc Oxide INACTIVE INGREDIENTS: lauroyl lysine, silica, calcium silicate. MAY CONTAIN: mica, titanium dioxide, iron oxides.