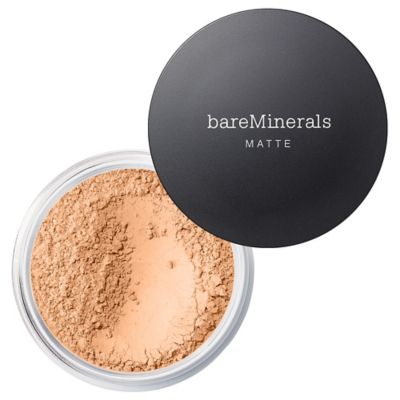 https://www.bareminerals.com/makeup/face/foundation/loose-powder-matte-foundation-spf-15/US84255.html
Loose Powder MATTE Foundation SPF 15
Mineral Foundation for Oily Skin
The original clean, skin-improving loose mineral foundation that delivers lightweight, buildable coverage and a matte finish. Read more
Size: Large (6 g / 0.21 Oz.)
Additional Information
What it is:
7 CLEAN INGREDIENTS Made with oily skin types in mind, this vegan matte loose powder foundation starts with the same skin-improving minerals found in our iconic ORIGINAL Loose Mineral Foundation SPF 15. Formulated with just 7 clean mineral ingredients — and without any unnecessary additives, binders, fillers or talc — it's MAKEUP SO PURE AND CLEAN YOU CAN SLEEP IN IT. ™ GOOD FOR SKIN COVERAGE MATTE Loose Mineral Foundation SPF 15 promotes clearer, healthier-looking skin over time and is clinically shown to reduce shine and absorb excess oil. Customize your coverage from sheer to full with this effortlessly buildable formula that wears all day without clogging pores, causing break outs or settling into fine lines. This skin-improving mineral makeup is available in 30 shades that flatter every skin type and tone, visibly perfecting skin with a no-makeup look and feel. MINERAL-BASED SUN PROTECTION With mineral-based, non-chemical Broad Spectrum SPF 15, MATTE Foundation also protects from damaging UVA/UVB rays. Unlike chemical sunscreens that absorb UV rays, mineral-based sunscreens work to immediately block UV rays from absorbing into the skin. Containing the active minerals Titanium Dioxide and Zinc Oxide, mineral-based sunscreens provide physical protection from the sun. EFFORTLESS APPLICATION When you use our signature SWIRL, TAP, BUFF application method, the mineral pigments warm up and blend seamlessly onto your skin. Easy to use, this weightless mineral foundation never looks cakey, whether you've got a naturally oily complexion or just prefer a matte finish. Our online Foundation Shade Finder makes it easy to choose your shade. You can also stop by a bareMinerals boutique for a free Shade Matching consultation. FULL OF CLEAN, NATURAL MATTE COVERAGE FREE OF CAKING
Why you'll love it:
Based on a 19-day U.S. consumer study of 90 people - 87% saw a reduction in the look of pores - 84% agreed with continued use, this product improved the appearance of their skin

Based on a 6-week U.S. clinical study of 30 people -Clinically shown to absorb excess oil and reduce shine -Promotes clearer, healthier-looking skin over time

•Minimizes the appearance of pores and imperfections •Protects with Broad Spectrum SPF 15 non-chemical mineral-based sun protection •All-day wear

•Dermatologist-tested •Non-comedogenic: will not clog pores or contribute to breakouts •Non-acnegenic •Hypoallergenic

•Cruelty-free and vegan •Free of talc, gluten, synthetic fragrance, PEGs and more
•MAKEUP SO PURE AND CLEAN YOU CAN SLEEP IN IT ™

Vegan Friendly

Gluten Free

Bare Guaranteed
Our team suggests:
Pair with the Beautiful Finish Brush: •SWIRL a small amount of foundation in the cap until it disappears into the brush. •TAP away any excess. •BUFF onto skin using circular motions to activate the minerals. Repeat until you've achieved desired coverage level. CLICK, LOCK, GO Sifter Instructions •First time use: Remove the clear tab to open the sifter. Loose minerals can now be dispensed into the cap for SWIRL, TAP, BUFF application. •After use, turn the sifter clockwise until you hear a CLICK, in order to LOCK in the foundation. •GO about your day — the loose minerals will stay locked in place. Prep skin with [https://www.bareminerals.com/skincare/serums/skinlongevity-long-life-herb-serum%C2%A050-ml/US94378.html Skinlongevity Long Life Herb Anti-Aging Face Serum] for smoother, easier makeup application.
What's inside:
-Titanium Dioxide & Zinc Oxide: Provide non-chemical, mineral-based SPF protection -Silica/Calcium Silicate & Lauroyl Lysine: Provide a matte finish with a silky, soft-skin feel and helps control oil -Iron Oxides: Clean, mineral-based pigments for natural-looking color and coverage ACTIVE INGREDIENTS: Titanium Dioxide, Zinc Oxide INACTIVE INGREDIENTS: lauroyl lysine, silica, calcium silicate. MAY CONTAIN: mica, titanium dioxide, iron oxides.