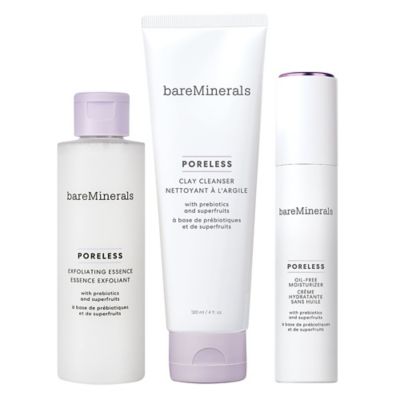 https://www.bareminerals.com/new/new-explore/poreless-skincare-2/poreless-3-step-regimen/US92860.html
PORELESS 3-Step Regimen
3-step skincare regimen that helps minimize the appearance of pores, reduce excess oil and hydrate. Read more
Additional Information
What it is:
The PORELESS Skincare Set delivers dramatically smaller pores in just 1 week when used as a 3-step skincare regimen.* Rich in superfruit acids for gentle exfoliation and nutrient-packed prebiotics to help minimize the appearance of pores, the PORELESS Collection leaves skin healthy-looking and fresh. Collection includes: PORELESS Clay Cleanser: This skin-refining daily cleanser deep cleans and purifies to keep pores clear. PORELESS Exfoliating Essence: Our gentle exfoliating liquid is a daily essential for smaller-looking pores. PORELESS Oil-Free Moisturizer: This lightweight lotion provides essential hydration while helping minimize the appearance of pores and reducing shine.
*Based on a consumer study of 32 women aged 22-55
Consumer Tested:
*Leaves skin looking refined and smooth *Dramatically smaller-looking pores in just 1 week* *87% agree pores look tighter** *For all skin types *Dermatologist-tested *Non-comedogenic *Prebiotics: Sugar Cane & Sugar Maple support healthy-looking skin *Superfruits: Bilberry, Noni Fruit, Orange & Lemon Extracts contain Glycolic, Tartaric Lactic and Citric Acids to help minimize the look of pores *None of our products are tested on animals
*When used as a 3-step regimen, compared to using products individually. Based on a consumer study of 32 women aged 22-55
**After 3 weeks; based on a consumer study of 30 women aged 18-55
Our team suggests:
1. Gently massage the PORELESS Clay Cleanser onto damp skin. Rinse thoroughly and pat dry. 2. Use a cotton pad to apply PORELESS Exfoliating Essence in gentle strokes, starting at the chin and working upwards. 3. Seal in moisture and prep for makeup by applying PORELESS Oil-Free Moisturizer all over the face and neck.