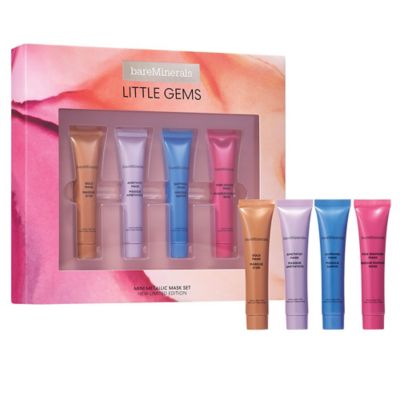 https://www.bareminerals.com/offers/sale/little-gems-mini-metallic-mask-set/US92684.html
LITTLE GEMS: Mini Metallic Mask Set
Limited-Edition Mini Face Mask Set
A limited-edition face mask set featuring 4 brand-new mini metallic masks — infused with glow-giving, natural gemstones for selfie-ready skin. Read more
Additional Information
What it is:
Add a bit of holiday shine to any self-care routine with this limited-edition mask set featuring 4 mini metallic masks. Infused with natural gemstones, each mask leaves skin feeling renewed and glowing. Apply one mask all over or target specific skin concerns by multi-masking. Includes: Mini Metallic Mask in Gold(0.5 oz / 15 g): Helps hydrate with Hyaluronic Acid *Apply to the areas of the face where you want an extra boost of hydration Mini Metallic Mask in Amethyst(0.5 oz / 15 g): Helps revitalize tired-looking skin *Apply to the jawline, neck, or any area of the face to revitalize the look of skin Mini Metallic Mask in Sapphire Blue(0.5 oz / 15 g): Helps detoxify skin *Apply to nose or t-zone to help detoxify Mini Metallic Mask in Pink Diamond(0.5 oz / 15 g): Helps give skin a radiant, healthy look *Apply to the cheeks or anywhere you want a radiant, healthy glow Size: 8.967" x 1.5" x 8.039"
Consumer Tested:
Pink Diamond: Formulated to improve radiancy for healthy looking skin Gold: Formulated to hydrate enhance a healthy looking complexion Sapphire Blue: Formulated to provide detoxifying benefits Amethyst: Formulated to revitalize the look of tired skin
Our team suggests:
Apply an even layer to clean, dry skin. Leave on for 10 to 20 minutes Wash off with water or dampened tissue if needed Use two to three times per week.