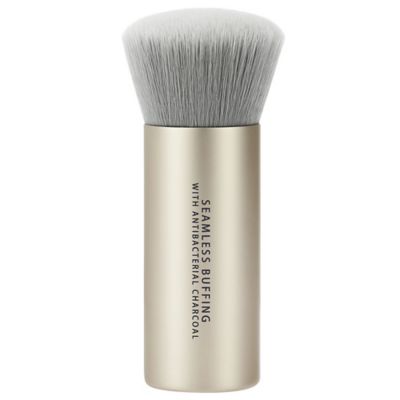 https://www.bareminerals.com/offers/sale/seamless-buffing-brush-with-antibacterial-charcoal/US86654.html
Seamless Buffing Brush with Antibacterial Charcoal
Antibacterial Makeup Brush
Charcoal-infused antibacterial fibers help repel bacteria and protect against contamination of this foundation brush. Read more
Additional Information
What it is:
This innovative makeup brush is made with special fibers infused with activated charcoal and antibacterial silver ions to help repel bacteria. Unlike brushes with a charcoal coating that can wash off with use, this antibacterial makeup brush is designed to stay cleaner for longer. The dense, rounded shape effortlessly buffs and blends for a smooth, seamless foundation application, while the elongated kabuki handle provides maximum control for building up coverage where needed, making it a perfect partner for acne makeup. The Seamless Buffing Brush with Antibacterial Charcoal was specifically designed to apply bareMinerals BLEMISH RESCUE™ Loose Powder Foundation. It can also be used with other foundations.
Consumer Tested:
*Vegan makeup brush with synthetic bristles *Brush fibers are infused with activated charcoal, which will not wash off with use *Specially designed for applying foundation to skin with acne *None of our products are tested on animals
Our team suggests:
For best results, pair with bareMinerals BLEMISH RESCUE™ Loose Powder Foundation with salicylic acid. How to apply loose powder foundation: -Swirl a small amount of foundation powder in the cap until it disappears into the brush. -Lightly tap away excess powder. -Buff into the skin in a circular motion, starting on the outside of your face and moving inward.