FREE SHIPPING ON FOUNDATION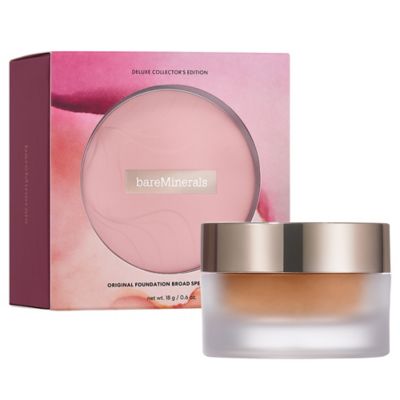 FREE SHIPPING ON FOUNDATION
https://www.bareminerals.com/original-foundation-deluxe-collector%27s-edition/US92661.html
ORIGINAL Foundation Deluxe Collector's Edition
Deluxe Size Award-Winning Mineral Foundation*
A limited-edition deluxe size of bareMinerals iconic, clean loose powder foundation made with only 5 natural mineral ingredients. Read more
Additional Information
What it is:
Get holiday-ready with this limited-edition deluxe size of our best-selling talc-free foundation. This weightless formula provides buildable, sheer-to-full coverage with a naturally luminous finish that helps promote healthier-looking skin over time. Size: 0.6 oz / 18 g ORIGINAL Powder Foundation is full of clean mineral pigments and non-chemical mineral sunscreen. Free of talc, parabens, phthalates, fragrance, preservatives and chemical sunscreen.
#1 MINERAL FOUNDATION IN THE U.S.*
#1 PRESTIGE LOOSE MINERAL FOUNDATION IN THE U.S.**
#1 PRESTIGE LOOSE POWDER FOUNDATION IN THE U.S.*** Our bestselling powder foundation perfects your complexion with lightweight, buildable coverage that's naturally luminous. The clean and simple formula is made with only 5 mineral ingredients, including non-chemical mineral sunscreen. It's everything your skin needs… and nothing it doesn't!" FULL OF: *Clean Mineral Pigments *Iron Oxides *Non-Chemical Mineral Sunscreen *Titanium Dioxide & Zinc Oxide *Silky, Luminous Finish *Mica (luminizing) *Bismuth Oxychloride (soft-skin feel) FREE OF: *Talc *Parabens *Phthalates *Fragrance *Preservatives *Chemical sunscreen bareMinerals® is always 100% cruelty-free MAKEUP SO PURE AND CLEAN YOU CAN SLEEP IN IT™ Meet the mineral makeup that changed everything. Our ORIGINAL Loose Powder Foundation SPF 15 is a clean, 100% vegan formula made with only 5 ingredients — all minerals. This clean mineral makeup feels weightless, lasts all day, and won't clog your pores or cause breakouts…even if you sleep in it! BUILDABLE FULL COVERAGE, LUMINOUS FINISH Customize your coverage from sheer to full with this effortlessly buildable formula. When you use our signature Swirl, Tap, Buff® method, the mineral pigments transform into silky cream that blends seamlessly onto your skin, feels feather-light, and won't settle into pores or fine lines. You'll have a naturally luminous and healthy look, with the flawless finish of a liquid foundation and the feels-amazing breathability of a powder. NON-CHEMICAL MINERAL SUNSCREEN Stay protected with broad spectrum SPF 15. Mineral sunscreens give you safe and effective chemical-free protection from damaging UVA/UVB rays. Physical sunscreens containing the active minerals titanium dioxide and zinc oxide work to immediately block UV rays from absorbing into the skin, unlike chemical sunscreens that absorb UV rays. THE PERFECT SHADE FOR EVERY FACE We offer 30 shades that stay true all day, with no oxidizing or color change. Want to meet your perfect foundation match? Use our easy shade finder or visit a bareMinerals® Boutique for an IRL shade-match with a makeup artist! AWARDS • 10-Year Allure Best of Beauty Hall of Fame Winner • 10-Year Glamour Magazine Glammy Award Winner • Glamour Editor's Pick • Martha Stewart Weddings Big-Day Beauty Award Winner 2017 • #1 Prestige Loose Powder Foundation in the U.S.***
*Source: The NPD Group, Inc. / U.S. Prestige Beauty Total Department/Specialty, Makeup Sales, 12 months ending June 2019
**Source: The NPD Group, Inc. / U.S. Prestige Beauty Total Department Specialty, Makeup Sales, Jan 2017–Dec 2017
***Source: The NPD Group, Inc. / U.S. Prestige Beauty Total Department/Specialty, Makeup Sales, 12 months ending February 2019
Why you'll love it:
*Makeup So Pure and Clean You Can Sleep In It™ *Promotes clearer, healthier-looking skin over time *Minimizes the appearance of pores and imperfections *Provides broad spectrum SPF 15 non-chemical, mineral-based sun protection *Recommended by The Skin Cancer Foundation as effective broad spectrum sunscreen *Non-comedogenic: won't clog pores or contribute to breakouts *Non-acnegenic *Hypoallergenic *Dermatologist-tested *Wears all day *Available in 30 shades CLEAN FORMULA *Made with only 5 mineral ingredients *Formulated WITHOUT talc, parabens, binders, fillers, oils, waxes, fragrance or preservatives *Gluten-free *Vegan *None of our products are tested on animals
Our team suggests:
Use the Beautiful Finish Brush (sold separately) to SWIRL, TAP, BUFF for a flawless application: SWIRL a small amount of foundation in the cap until it disappears into the brush. TAP away any excess. BUFF onto your skin circular motions. This activates the minerals and transforms them from a powder to a silky cream. Repeat until you've achieved the coverage you want.
What's inside:
Iron Oxides: Mineral sunscreen agents that provide protection from UVA and UVB rays Titanium Dioxide and Zinc Oxide: Mineral sunscreen agents that provide protection from UVA and UVB rays Titanium Dioxide and Zinc Oxide: Provide a luminous finish with a silky, soft-skin feel Fair: Active Ingredients: Titanium Dioxide: 25% Zinc Oxide 20% Inactive Ingredients: Bismuth Oxychloride, Titanium Dioxide, Mica, Iron Oxides Fairly Light: Active Ingredients: Titanium Dioxide:25% Inactive Ingredients: Bismuth Oxychloride, Mica, Iron Oxides Light: Active Ingredients: Titanium Dioxide 18% Zinc Oxide 22% Inactive Ingredients: Bismuth Oxychloride, Mica, Iron Oxides Medium: Active Ingredients: Titanium Dioxide 25% Inactive Ingredients: Bismuth Oxychloride, Titanium Dioxide, Mica, Iron Oxides Medium Beige: Active Ingredients: Titanium Dioxide 12.6% Zinc Oxide 21.8% Inactive Ingredients: Bismuth Oxychloride, Mica, Iron Oxides Medium Tan: Active Ingredients: Titanium Dioxide 8.6% Zinc Oxide 25% Inactive Ingredients: Bismuth Oxychloride, Mica, Iron Oxides. Golden Tan: Active Ingredients: Titanium Dioxide 11.7% Zinc Oxide 20% Inactive Ingredients: Bismuth Oxychloride,Mica, Iron Oxides Fairly Medium: Active Ingredients: Titanium Dioxide 25% Zinc Oxide 9.3% Inactive Ingredients: Bismuth Oxychloride, Titanium Dioxide, Mica, Iron Oxides Neutral Ivory & Light Beige: Active Ingredients: Titanium Dioxide 25% Inactive Ingredients: Mica. May Contain: Titanium Dioxide, Iron Oxides, Bismuth Oxychloride. Golden Dark: Active Ingredients: Titanium Dioxide 7% Zinc Oxide 20% Inactive Ingredients: Iron Oxides, Mica, Bismuth Oxychloride Golden Deep: Active Ingredients: Titanium Dioxide 9.7% Zinc Oxide 20% Inactive Ingredients: Iron Oxides, Mica, Bismuth Oxychloride
WHAT PEOPLE ARE SAYING
In the original foundation, my color is light 08. what would you suggest in this foundation?

Hi LexyT, We understand if you want to take advantage of this excellent value and think you can try either Fairly Light or Medium Beige as you fall in the middle.

Date published: 2020-02-18

"Original Foundation Broad Spectrum SPF 15" - Does this foundation/powder or any of your other products contain "Nano-sized titanium dioxide"? 

Hi Fishing Rodl, No, this product is not formulated with nano Titanium Dioxide or Zinc Oxide. Please be assured that the health and safety of bareMinerals customers is our paramount consideration, and as a result, the ingredients we use in our products meet high quality standards, and fully comply with federal and state regulations along with the European Union's regulations. Any nano-sized particles that may be used are "confirmed as safe" based on specific requirements/ingredient specifications deemed by the European Union. We use different titanium dioxides and zinc oxides in our products depending on specific product performance requirements but ingredients in these products are part of proprietary formula information.

Date published: 2020-01-02

Since you don't have fairly light in this size what color would be represented as a close match?

Hi Grace21, We recommend trying Original Loose Mineral Foundation Deluxe Collector's Edition in Light.

Date published: 2019-12-18

I have very dry skin,would this work for me?Honey

Hi fayzz, Our Original Foundation Broad Spectrum SPF 15 is suitable for all skin types. If extra dry skin is a concern we suggest starting with a hydrating primer like our Good Hydrations Silky Face Primer and following up with a moisturizer like Bare Haven Essential Moisturizing Soft Cream.

Date published: 2019-12-04

I wear the soft medium in your foundation. The deluxe size does not have soft medium color. What color that you carry in deluxe size is close to soft medium?

Hi Mandy123, We suggest trying Original Foundation Broad Spectrum SPF 15 in Medium in this kit.

Date published: 2019-12-03

Is Bare Minerals gluten free? I have celiac and can't come in contact with gluten.

Hi ljharris Please reference each product you're interested in specifically in order to obtain that kind of information, in addition to a complete ingredient listing. We are happy to confirm that this product is gluten-free though!

Date published: 2019-12-29

What is the equivalent shade to Aspen 04 in Barepro? Thanks!

Hi ivy truong, We recommend going with our ORIGINAL Foundation Deluxe Collector's Edition in shade Fairly Light, for porcelain-to-light skin with neutral undertones.

Date published: 2019-11-25

What is the shelf life of this product?

Hi Syg89, Our Original Foundation Deluxe Collector's Edition has a shelf life of 3 years unopened, and we recommend using it within 1 year once opened.

Date published: 2019-11-19

bvseo_sdk, dw_cartridge, 18.2.0, p_sdk_3.2.0
CLOUD, getContent, 175ms
questions, product