Free Standard Shipping on orders over $50.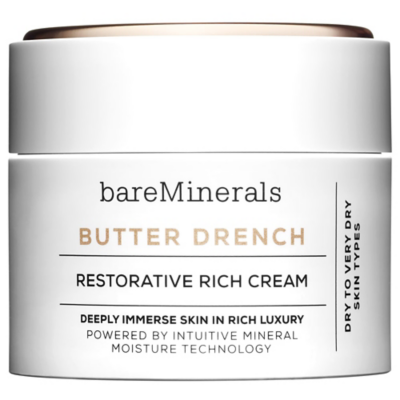 Free Standard Shipping on orders over $50.
https://www.bareminerals.com/skincare/moisturizers/butter-drench-restorative-rich-cream/US78851.html
BUTTER DRENCH™ Restorative Rich Cream
Rich Cream Moisturizer
A saving grace for dry or very dry skin, our buttery cream deeply moisturizes and nourishes skin to renew its radiance. Read more
Additional Information
What it is:
Immerse your skin in our rich BUTTER DRENCH™ Restorative Rich Cream powered by Intuitive Mineral Moisture Technology™. Its formula is made from a luscious blend of shea butter and ceramides to deeply hydrate and increase the retention of that hydration. Plus, a peptide blend will enhance the skin's resilience so you can maintain a radiant glow.
Why you'll love it:
Ideal for dry and very dry skin. May also be used as a replenishing night cream for normal and combination skin. Richly textured, buttery cream formula flawlessly glides onto skin. Shea butter comforts and soothes dry skin. Ceramides provide skin with balance and suppleness. Peptides diminish the appearance of fine lines and wrinkles. Naturally derived fragrance with subtle notes of bergamot and eucalyptus. Dermatologist tested. Non-comedogenic. Oil-free. None of our products are tested on animals.
Our team suggests:
*Finish your beauty ritual with BUTTER DRENCH™ Restorative Rich Cream to keep your skin feeling replenished and looking radiant. Apply a dime-sized amount to face and neck. Suggested usage: Use after cleansing and following Skinlongevity® Vital Power Infusion morning and night.
What's inside:
1. SHEA BUTTER Provides intense moisture & nourishment 2. INTUITIVE MINERAL MOISTURE TECHNOLOGY Replenishes essential moisture to diminish rough texture & dryness Water (Aqua/Eau), Glycerin, Butylene Glycol, Dimethicone, Pentaerythrityl Tetraethylhexanoate, Propanediol, Tricaprylin, Glyceryl Stearate SE, Cetyl Alcohol, Silica, Myristyl Myristate, PEG-100 Stearate, Butyrospermum Parkii (Shea) Butter, Copernicia Cerifera (Carnauba) Wax (Cera Carnauba/Cire De Carnauba), Hydrogenated Polyisobutene, Hydrogenated Polydecene, Behenyl Alcohol, Dimethylacrylamide/Sodium Acryloyldimethyltaurate Crosspolymer, Isostearic Acid, Stearyl Alcohol, Urea, Glucosamine HCL, Algae Extract, Saccharomyces Cerevisiae Extract, Sodium PCA, Allantoin, Ethylhexylglycerin, Lauryl Betaine, Sodium Citrate, Disodium EDTA, Sorbitan Tristearate, Phytosteryl/Octyldodecyl Lauroyl Glutamate, Alcohol, Citric Acid, Carbomer, Polysorbate 20, Sodium Hyaluronate, Hypericum Erectum Extract, Palmitoyl Tetrapeptide-7, Palmitoyl Tripeptide-1, Ceramide NP, Tocopherol, Fragrance (Parfum), Geraniol, Limonene, Linalool, Citral, Sodium Benzoate, Phenoxyethanol.
WHAT PEOPLE ARE SAYING
Why do you have your Body Drench moisturiser listed as Vegan when it has animal Urea in it? Thanks

Hi phoenixrising18, Please know the Urea in our Butter Drench Restorative Rich Cream is synthetic and our formula doesn't contain any animal derivatives. This product is vegan! We hope you like it as much as we do! Thank You,

Date published: 2019-10-15

Hello, does this product contain petrolatum or a paraffin base? 

HI Marnie, Please find the complete ingredient listing for our Butter Drench Restorative Rich Cream for your reference: Water (Aqua/Eau), Glycerin, Butylene Glycol, Dimethicone, Pentaerythrityl Tetraethylhexanoate, Propanediol, Tricaprylin, Glyceryl Stearate SE, Cetyl Alcohol, Silica, Myristyl Myristate, PEG-100 Stearate, Butyrospermum Parkii (Shea) Butter, Copernicia Cerifera (Carnauba) Wax (Cera Carnauba/Cire De Carnauba), Hydrogenated Polyisobutene, Hydrogenated Polydecene, Behenyl Alcohol, Dimethylacrylamide/Sodium Acryloyldimethyltaurate Crosspolymer, Isostearic Acid, Stearyl Alcohol, Urea, Glucosamine HCL, Algae Extract, Saccharomyces Cerevisiae Extract, Sodium PCA, Allantoin, Ethylhexylglycerin, Lauryl Betaine, Sodium Citrate, Disodium EDTA, Sorbitan Tristearate, Phytosteryl/Octyldodecyl Lauroyl Glutamate, Alcohol, Citric Acid, Carbomer, Polysorbate 20, Sodium Hyaluronate, Hypericum Erectum Extract, Palmitoyl Tetrapeptide-7, Palmitoyl Tripeptide-1, Ceramide NP, Tocopherol, Fragrance (Parfum), Geraniol, Limonene, Linalool, Citral, Sodium Benzoate, Phenoxyethanol.

Date published: 2019-09-09

I use the Butter Drench moisturizer, which I use morning and evening after cleansing. However, my frustration is that I have to purchase almost every six weeks. Why not offer the skin care products in larger sizes. I would definitely purchase.

Hello Sand Dee, We are so happy to hear that you are enjoying our Butter Drench moisturizer. We understand your frustration and will be sure to forward your feedback to the appropriate department as it is important to us.

Date published: 2017-04-25

Does it have any oil? I purchased Butter Drench at a local store.

The oil based produces breaks my face out. I have very dry skin so I need a very good moisturizer. Can you recommend the products that would be best for a senior citizen with large pores and wrinkles?

I am not sure if it has oils in it or not, but you may need to rethink your skincare situation. If you have dry skin you need something with oil in it, otherwise you are not going to get the moisture you really need. Large pores and wrinkles are also accentuated by dryness. You should reevaluate your skincare routine. What type of cleanser are you using? what type of moisturizer are you currently using? Oil based products alone do not cause breakouts. They are actually good at removing ALL of your make up and the dirt and oil on your face. Not all oils are the same, the oil on your face isn't the same as oil in products. If you are breaking out with oil based products it may be, because your skin is too dry. you should probably consider exfoliating a couple times a week, and ensuring you use the right make up remover to remove ALL of your make up (wipes do not count). Your skin renews itself daily, with skin cells pushing their way from below to the surface. When your skin gets dry or flaky this can interrupt the process causing a major blockage. Your dry skin essentially traps any dirt, bacteria and etc which can in turn either get infected creating a pimple or bumps.

Date published: 2019-09-26

I want to try this cream but I am allergic to Eucalytus so I am guessing I might have an allergic reaction.

Has this been tested on those allergic to Eucalyptus? I'm wondering if the form it's in may be different and not cause allergic reactions for me as trees and even sprigs of it in bouquets of flowers do. I'd appreciate your input. I am placing an order today and hoped to order it but since the 2 moisturizers I planned on trying have eucalyptus in them, I will have to wait for a response. If you have a sample, I'd appreciate if one could be included in my order so I can test it. Thank you and blessings!!! I am looking forward to the cleansers and longevity serum I am ordering and I may try the gel moisturizer for now even though my older skin could use more moisturing. I did see a few reviews that aren't happy with having fragrance (I'm guessing many have allergies as I do) so one idea might be to add fragrance free options to this new line that looks promising for those who have sensitivities?

I'm allergic to eucalyptus and had an allergic reaction to this product, so I would recommend to avoid it.

Date published: 2017-04-28

I read somewhere that mineral based moisturizer has a natural sunscreen. Is that the case?

I read somewhere that mineral based moisturizer has a natural sunscreen. Is that the case?

whats the difference between butter drench and the purely nourishing cream for dry skin. and why did you stop selling the purely nourishing cream.

Whats the difference between the butter drench for dry skin and the purely nourishing cream for dry skin. is the purely nourishing cream no longer available or do you still sell it.

Your cosmetics safe for pregnant women do not?

I have 1 Gentle Deep Cleansing Foam, 1 SKINLONGEVITY, 1 Butter Drench Restorative Rich Cream. I want to ask when i pregnant i can use them? Safe? thanks

bvseo_sdk, dw_cartridge, 18.2.0, p_sdk_3.2.0
CLOUD, getContent, 201ms
questions, product