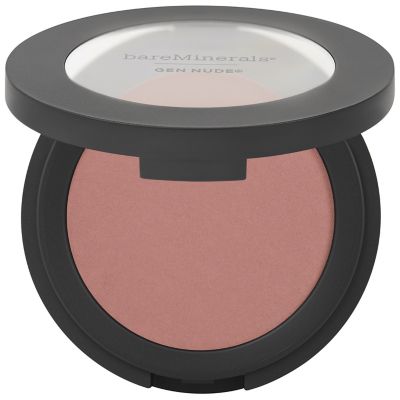 https://www.bareminerals.com/how-to/tools-quizzes/virtual-try-on/gen-nude%C2%AE-powder-blush/US85814.html
Gen Nude® Powder Blush
DETAILS

Free of:

Cruelty-Free, Vegan, Gluten-Free, Paraben-Free, Talc-Free, Synthetic Fragrance-Free, SLS-Free, PEG-Free, Tree Nut-Free

Learn More

What it is:

An ultra-silky, talc-free powder blush that builds and blends seamlessly, gives skin a diffused, soft-focus finish—and wears all day.

What it does:

Delivers a healthy wash of color with no harsh edges
Smooths the look of pores and imperfections
Provides all-day wear
Diffuses light for a soft-focus effect
Provides buildable, sheer to medium color and a natural soft-matte finish
Applies seamlessly with a silky, creamy feel

Consumer tested:

100% agreedit was easy to apply and blend*
100% agreedit feels weightless on skin*
100% agreedit gave a healthy-looking glow to skin*

*Based on aconsumer study of 30 people.

Why you'll love it:

Available in a range of flattering shades designed for all skin tones
Light-reflecting mineral pearls create a brightened,blurred effect
Dermatologist-tested
Hypoallergenic
Cruelty-free
Vegan
Clean —talc-free + formulated without parabens, formaldehyde, gluten, synthetic fragrance, PEGs and more

HOW TO USE

Our Team Suggests:

Apply GEN NUDE Powder Blush to the apples of your cheeks, blending along your cheekbones. For a soft, diffused look, use an angled brush like the Blooming Blush Brush (sold separately).
To create added dimension, pair with any bareMinerals bronzer and highlighter for a radiant, glowing complexion.
SEE KEY INGREDIENTS

Additional Information
What shade replaced call my blush in the gen nude powder blush. 

Hello T ingram, We still offer the shade Call My Blush in the Gen Nude Powder Blush collection. Here is the link: https://www.bareminerals.com/how-to/tools-quizzes/virtual-try-on/gen-nude%C2%AE-powder-blush/US85814.html -Brittny, Clean Beauty Artist

Date published: 2023-03-16

I have a very fair complexion, use complexion rescue natural 05, & am discontinuing coloring my hair - going natural grey/white - what shade of gen nude powder blush would you recommend ?

Hello Gmaj, We recommend our Gen Nude Powder Blush in the shade Call My Blush, Pink Me Up, or On The Mauve to complement your complexion. -Brittny, Clean Beauty Artist

Date published: 2022-03-07

Which color is closest to coppertone from MAC? 

Hello ChantallB, Based on your shade reference, we recommend Peachy Keen in the Gen Nude Powder Blush collection, as it has a similar undertone. -Brittny, Clean Beauty Artist

Date published: 2022-03-07

Which shade is closest to Glee in the powder blush line?

Hello 80kogs, We recommend our Gen Nude Powder Blush in the shade Call My Blush or On The Mauve, as they have a similar undertone. -Brittny, Clean Beauty Artist

Date published: 2022-03-02

Can you recommend a nice color of blush for fair/light skin with red undertone.

Hello 2022, We recommend our Gen Nude Powder Blush in the shade Call My Blush, Pink Me Up, or On The Mauve to complement your complexion. -Brittny, Clean Beauty Artist

Date published: 2022-01-21

Is strike a rose warm, cool, or neutral toned

Hello Tini, Strike a Rose Gen Nude Powder Blush has a neutral undertone. -Brittny, Clean Beauty Artist

Date published: 2022-01-18

Which gen nude blush is closest to the loose powder blush called hint

Hello Mfro, We recommend the shade On The Mauve in the Gen Nude Powder Blush as it has a similar undertone as Hint. -Brittny, Clean Beauty Artist

Date published: 2021-12-06

Which Gen Nude blush color comes closest to The One Ready Blush?

Hello littlewing, We recommend the shade Call My Blush or Strike a Rose in the Gen Nude Powder Blush collection, as both shades have a similar undertone as The One READY Blush. -Brittny, Clean Beauty Artist

Date published: 2021-11-23

Is the Gen Nude blush collection, specifically peachy keen, glittery or shiny? I dont want any of that.

Hello cheylb, The shade Peachy Keen in the Gen Nude Powder Blush collection does contain shimmer. However, if you are shopping for a peach blush, you may enjoy The Beauty Of Nature Gen Nude Powder Blush in the shade "That Peach Tho" as it does not contain shimmer. Here is the link: https://www.bareminerals.com/offers/sale/the-beauty-of-nature-gen-nude-powder-blush/US94306.html -Brittny, Clean Beauty Artist

Date published: 2021-11-16

Which blush would go with loose powder foundation Fairly Light 03?

Hello maggie21, We recommend our Gen Nude Powder Blush in the shade Call My Blush or Pink Me Up. You may also enjoy The Beauty Of Nature Gen Nude Powder Blush in the shade That Peach Tho. -Brittny, Clean Beauty Artist

Date published: 2021-10-25

I have used bareMinerals READY Blush, color: The Faux Pas. I don't see that on your website, so what would be the closest thing to it?

Hello KimCogs, The Faux Pas READY Blush has been retired and is no longer available for purchase. The most comparable shade would be Mauve Sunrise or Pink Sky in the Bounce & Blur Powder Blush collection. -Brittny, Clean Beauty Artist

Date published: 2021-10-14

Which shade of Gen Nude blush would suggest to compliment Complexion Rescue shade 4.5(wheat) and also Original liquid foundation shade light medium? Also, do I need a brush to apply the blush?

Hello dk49, For pink-mauve tones, we recommend the shades Call My Blush or Pink Me Up. Also, we suggest the shades That Peach Tho or Peachy Keen in the Gen Nude Powder Blush collection for a Peachy tone. -Brittny, Clean Beauty Artist

Date published: 2021-10-11

Hello, years ago you had a limited edition loose blush called t.t.y.l. I have held on to this container for years in the hopes of finding a similar color match! Would you recommend anything similar in either a loose or pressed formula?

Hello AllyBoo, We recommend shade Beauty in the Loose Powder Blush as it has similar undertones as t.t.y.l. -Brittny, Clean Beauty Artist

Date published: 2021-06-29

are your liquid foundations, blush and eyeshadows SOY FREE? i need both soy and gluten free.

Hello feinl, Ingredient information can be found on each product page. If you have specific questions or concerns regarding allergies and the ingredients contained in our formulas, we recommend that you consult your physician prior to the use of any bareMinerals products. -Brittny, Clean Beauty Artist

Date published: 2021-08-29

Which color is equivalent to Natural High? I'm disappointed you no longer carry that shade.

Hello Colleen67, We know it can be disappointing when a favorite shade is discontinued and we apologize. We recommend the shade Pink Me Up in the Gen Nude Powder Blush. It has warm pink undertones similar to The Natural High Ready Blush. -Brittny, Clean Beauty Artist

Date published: 2021-04-21

What is the closest to the old color GLOW?

Hello Glow all the way, Thank you for your question! We will need some additional information about the shade GLOW to help you find the perfect shade replacement. We encourage you to reach out to one of our Clean Beauty Artists via Live Chat so we may assist you. -Brittny, Clean Beauty Artist

Date published: 2021-04-16

I have light sallow skin tone and need a blush with blue undertones. Which Color do you recommend?

Hello, LMarieF Thank you for your interest in our Gen Nude Blush. We recommend the shade Call My Blush for a delicate pink with blue undertones. -Jessica, Clean Beauty Artist

Date published: 2021-04-09

Which of your products are pregnancy safe?

Hello, Mom to be Congratulations! We take the safety of our products very seriously and are confident about the safety of our products. Ingredient information can be found on each product page. If you have specific questions or concerns regarding allergies and the ingredients contained in our formulas, we recommend that you consult your physician prior to the use of any bareMinerals products. -Jessica, Clean Beauty Artist

Date published: 2021-04-06

Was there ever a "poppy" color for blush? And if so, did it get replaced with a new name/color?

Hi Paigecg, We recommend trying our Bounce & Blur Powder Blush in Coral Cloud or Pink Me Up in our Gen Nude Powder Blush as an alternative!

Date published: 2021-01-25

I want to reorder blush.  I'm currently using Get Nude and the color is Let's Go Nude.  I do not see this shade available.  Has it been replace and if so what shade would be a close match.  Thank you.

Hi Lori59, You can find that shade for a limited time here and its on sale: https://www.bareminerals.com/offers/sale/gen-nude-powder-blush/USmastergnblushsale.html?dwvar_USmastergnblushsale_SkinShade=Let%27s%20Go%20Nude We suggest stocking up while supplies last!

Date published: 2021-01-19

I am looking the the blush color "The Confession" but don't see it. Has it been replace? Thank you

Hi Kippy, We suggest using shade Let's Go Nude in our Gen Nude Powder Blush. This blush is on sale for a limited time and we suggest ordering yours now here: https://www.bareminerals.com/offers/sale/gen-nude-powder-blush/USmastergnblushsale.html?dwvar_USmastergnblushsale_SkinShade=Let%27s%20Go%20Nude

Date published: 2021-01-18

What is the finish of this blush? Is it a matte? Thanks!

Hi astel, Our Gen Nude Powder Blush has an ultra-creamy formula and gives cheeks a natural flush in a powder formula. We hope you love it as much as we do!

Date published: 2021-02-01

What color is closest to the READY blush "Elation"?

Hi SC Mom2, We suggest our Gen Nude Powder Blush in shade Pink Me Up as a replacement.

Date published: 2020-12-04

What color is closest to the Kiss loose powder blush?

HI Jackieeee, We suggest trying shade Call My Blush in our Gen Nude Powder Blush.

Date published: 2020-12-01

I used bareMinerals blush - the Natural High for years. What color replaces that?

Hi JaneP, We suggest trying our Gen Nude Powder Blush in Pink Me Up or our Loose Powder Blush in Beauty as a replacement.

Date published: 2020-11-21

A long while back, I used THE ONE pressed powder blush & even kept the empty compact it came in so I wouldn't forget the name. I've searched for something similar with no luck. Which of your current shades in the pressed powder blush comes closest?

Hi MaineGirl, We recommend Gen Nude Powder Blush in Call My Blush as your replacement shade!

Date published: 2021-09-06

What replaces READY Blush - The Aphrodisiac?

Hi JanJ, We suggest Gen Nude Powder Blush shade in Peachy Keen as a replacement!

Date published: 2022-01-27

what would compare to Ready Blush - Indecent Proposal? and Ready Bronzer - the Skinny Dip?

Hi MOmama, We think you'll love our Gen Nude Powder Blush in Call My Blush or Pretty in Pink!

Date published: 2020-10-20

Which shade is a replacement for "The Tease"?

Hi TheTeaseReplacement, We think you'll love our Gen Nude Powder Blush in PInk Me Up or Pretty in Pink!

Date published: 2020-10-20

What Next Gen blush color is similar to #43289 (So Fun) loose powder blush?

Hi Maryellen, We think you'll love our Gen Nude Powder Blush in Call My Blush!

Date published: 2020-10-20

bvseo_sdk, dw_cartridge, 18.2.0, p_sdk_3.2.0
CLOUD, getContent, 154ms
questions, product